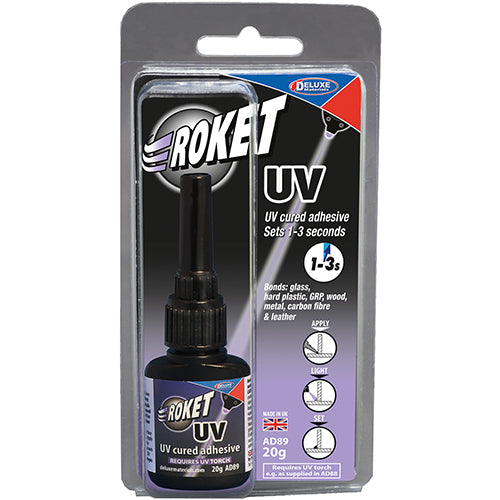 The adhesive allows parts to be positioned correctly before it is cured using a UV light. Roket UV bonds hard plastic, grp, wood & metal and has many advantages over other glues:  Please note the UV light is not included

Crystal clear bonds

Non- blooming

Fast solid cure on demand as short 1-3 seconds

Odourless in use

Rapid tack free, smooth surfaces

Can be painted

May be used as a coating 
Ple

ase note! C

annot be sent overseas.

Can only be sent UK MAINLAND.
Uses: Roket UV bonds almost all materials including plastics, metal, wood & leather and is ideal for normally impossible tasks such as rapid bonding of clear plastics, simulating glass e.g. on miniature eyes and lenses, cat eyes, or holding parts correctly in place while other glues dry.
Click here for article on Roket UV