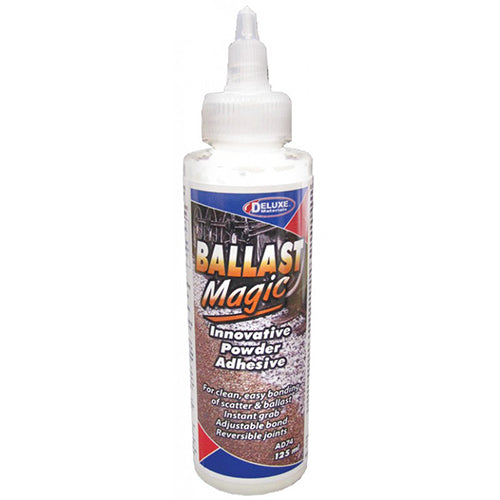 125ml.
Innovative powder adhesive.
For clean, easy bonding of scatter & ballast.
Instant grab, adjustable bond, reversible joints.
Ballast Magic by Deluxe Materials is a new way to ballast track in all scales. The adhesive itself is a fine dry powder that is very easy to mix in with ballast. Once the adhesive and ballast mixture is laid in the track it needs to be misted with water using the Ballast Spray bottle. Using Ballast Magic is a new enjoyable way to bond ballast. Bond is reversible with warm water.
Instructions: Mix thoroughly 1 part dry Ballast Magic with between 5 & 10 parts granules by volume. Apply to track or scene. Spray gently with water for instant grab & activation. Adjust if required. Allow to dry for 1-2 hours. Dries to a realistic matt effect.
Fast drying 1-2 hours
Good bond resistant to everyday handling
Safe to use.
Can be manipulated easily & mixed with most scatters
Ideal for large areas, fixing coal , creating piles etc.
Ballast Magic will be especially useful when ballasting around points because it can be applied in a controlled manner without the risk of adhesive flowing into the working parts of a point. Its reversible nature means that if you position something that you later think is in the wrong location you can dampen the adhesive which will then release.
Techniques
(pdf downloads) click on image
Digging In The Dirt