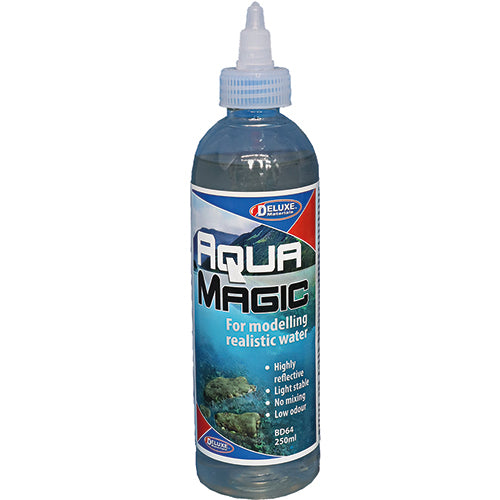 For modelling realistic water.
No mixing, safe & low odour-light stable.
Aqua Magic is a 1-part solution to the scale modelling of water effects such as rivers, canals, lakes, ponds, puddles & mud.
It requires no mixing, is easy to pour and rapidly dries clear in 36-48 hours to an impressive light stable highly reflective gloss finish. Aqua Magic can be coloured with water-based dyes and paints and textured as it dries. Increase depth by adding layers as required.
Aqua Magic is used for water where the surface is exposed to air for drying. It is not suitable for very deep water or enclosed water applications where air-drying cannot take place e.g. drinks and goldfish bowls.
Instructions for use. Colour the base as required with paint and seal it with a coating of Aqua Magic water itself. Allow drying (~24hrs) and then pour further Aqua Magic to a depth of up 3mm ensuring a level surface. Texture as it dries. Solid Water or Scenic Water should be used for these applications.
Crystal clear
Highly realistic reflective finish
No mixing
Pour in thin layers up to 3mm
Texturable
Touch dry in 24-36 hrs.
Non-toxic
Low odour.
Clean brushes with hot soapy water. 250 ml pack covers approx. 0.1 sqm (1 sq ft) at 3mm depth.
Hints and Tips
Base Paint selection. If you are pouring it over paint always check beforehand the drying characteristics which will depend of the thickness applied and type of paint. Enamel paints work best.
Adding depth with extra layers - always allow 2-3 days between adding additional layers of Aqua Magic.
Waves: Acrylic paints although appearing dry to touch can 2-3 days to fully dry out. Once dry, you can add further wave effects using Making Waves.
Mud Colouring- acrylic paints can be added to Aqua Magic to create mud or similar affects.
Slushy Scenic Snow powder is another possibility for creating slushy or part melted snow and maybe worth a try.
Aqua Magic is sold in two pack sizes: 250ml BD64 and 125ml BD65.